Description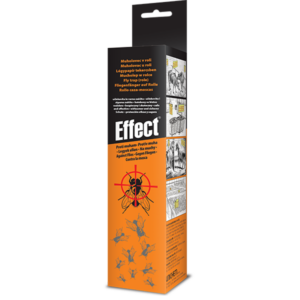 Easy to use mechanical protection
special air-resistant glue
No toxic additives
Description
Effective monitoring even for larger fly populations. It is made from special adhesives that are air-resistant and provide long-lasting protection.
The flytrap surface covered with this special glue makes the flies stick to the Effect Flytrap. Because the trap contains no insecticidal compound, the product is safe for humans and pets.
Formulation
Ready to use Glue Paper Bait
Advantages:
Natural mechanical protection.
The roll catches up to 40,000 flies.
Special air-resistant glue.
No toxic additives.
Safe for humans and warm-blooded animals.
A single adhesive side – simple and easy to use.
Usage
Used against all types of flies.
Instructions for use:
Effect Flytraps are recommended for use in all areas where insect problems need to be resolved without any interventions in the environment such as residential areas, stables and barns, greenhouses, warehouses, and other areas of livestock and food industry facilities.